BASAL CELL CARCINOMA
Non-threatening if caught early.
Basal cell carcinoma (BCC) is the most common type of skin cancer. BCC develops from the abnormal and uncontrolled growth of basal cells. Since basal cell carcinoma typically grows slowly, it is usually diagnosed later.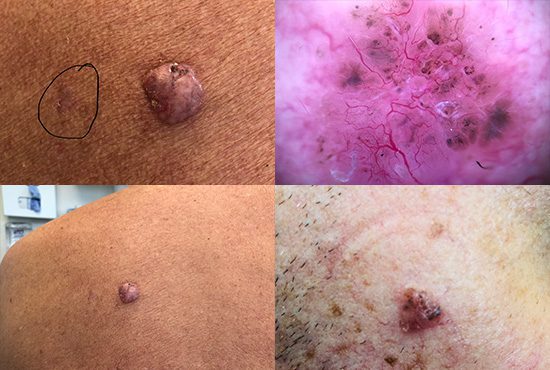 What is basal cell carcinoma?
Basal cells are found at the bottom of the epidermis (the outermost layer of the skin). They produce new skin cells and push older cells toward the outer surface of the skin when new cells are produced. Basal cell carcinoma develops when DNA is damaged due to exposure to UV rays. This damage leads to changes in basal cells resulting in serious health complications including death.
How to spot basal cell carcinoma.
The appearance of basal cell carcinoma may vary substantially from patient to patient. They all usually develop in sun-exposed areas and will appear as a rolled elevated bump. A few traits are distinctive.
Signs & Symptoms
Pinkish growths
Open sores
Shiny bumps
Red patches, or dome-shaped lesions
May crust, itch, ooze, or even bleed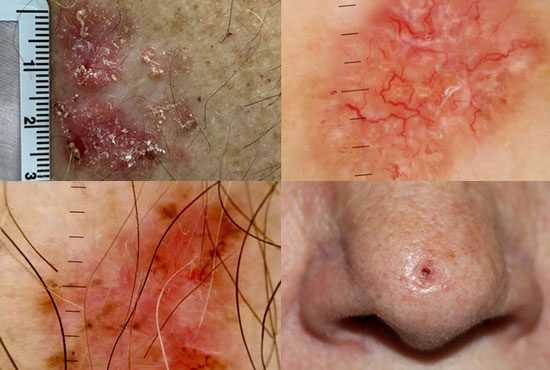 Understanding how basal cell carcinoma relates to dermoscopy.
Distinguishing superficial basal cell carcinoma subtypes from non-superficial subtypes helps detect and manage the condition. Below is an overview of both basal cell carcinoma types.


Superficial basal cell carcinoma
The presence of maple leaf‐shaped regions with short telangiectasias, along with the absence of bluish grey ovoid-shaped nests, ulceration, and arborizing vessels, signals the presence of superficial BCC. Several small erosions and white-red shapeless regions, known as "milky‐pink" areas, further signal the presence of superficial BCC.


Non-superficial basal cell carcinoma
Arborizing vessels and ulcerations are one of the most typical characteristics of non-superficial BCC. Bluish grey ovoid-shaped nest-like structures are the most common pigmentation characteristic of non-superficial BCCs that help predict nodular BCC.pots, freckles, blemishes, or abnormal skin growths. If they hurt, bleed or grow over time, see your doctor.
A 'stellar pattern' is used to identify infiltrating BCC. You'll notice skin folds, white lines, or vessels spreading from the periphery of the tumour toward the surrounding region of the skin.
Features of pigmented basal cell carcinoma.
Nearly 30% of BCCs that are clinically classified as non-pigmented show pigmented structures. Therefore, it is now thought that pigmented characteristics are found in all subtypes of BCCs, including both non-superficial and superficial.
Varying pigmentation patterns can be found in pigmented nodular and superficial BCC. Dermoscopy criteria depicting pigmentation that typically signify infiltrating or superficial BCC include:
maple‐leaf‐shaped areas
concentric structures
in‐focus dots
spoke‐wheel areas
brown look
On the other hand, dermoscopy criteria showing pigment in deeper layers of the dermis (bluish grey globules and ovoid-shaped nests) appear grey or blue, and denote nodular BCC.
Who is most at risk?
Anyone can develop basal cell carcinoma. However some of the more common risk factors include:
Exposure to UV rays from indoor tanning or the sun, as mentioned
A personal history of skin cancer, including melanoma or squamous cell carcinoma (SCC)
Being above 50 years of age
Fair skin
Being a male
Chronic infections or chronic skin inflammation from scars and burns
Preventing basal cell carcinoma.
Full body protection
Protect any part of the body that is not covered with UV protective clothing. Use a broad spectrum UVA/UVB sunscreen with a minimum SPF of 30-45.

Develop sun-safe habits
Avoid harsh UV rays and seek shade between the sun's peak hours from 10 am to 4 pm. Or simply, stay out of the sun.

Avoid tanning or long exposure to daylight
Prolonged UV exposure from tanning beds can lead to as much damage as sun exposure can. Tanning bed use over time can also lead to actinic keratosis. There is no such thing as a healthy tan, or safely "pre-tanning" before going on a holiday to a sunny destination.

Check your skin regularly
Keep an eye out for any changes in spots, freckles, blemishes, or abnormal skin growths. If they hurt, bleed or grow over time, see your doctor.
Talk to a skin cancer physician.
With all types of skin cancer, it's important to seek the advice of a qualified skin health physician. At Kelowna Skin Cancer Clinic, we have tools and expertise to diagnose and guide you through your treatment options.