Preventing Skin Aging with Face & Neck Sun Protection
Many of us have spent countless hours scouring the internet for the most effective, best-reviewed anti-aging products—and our bank accounts have felt the price. Ironically, the ultimate hassle-free, cheap, all-natural solution for radiant skin often slips our minds: hats!
We're here to change your minds about this underrated garment. In this day and age, there's no shortage of stylish hats and face coverings on the market. There are even specialized options for UV-protection, such as the UVwise sun hat collection.
In this article, we'll discuss what causes skin aging and cover the various ways in which face and neck sun protection can halt your skin's aging process. Let's get started!
The sun's more powerful than you think
Summer in Canada is remarkable, and many of us wait all year for its arrival. Some of us can't wait, and chase the sun to warmer Southern regions as the seasons start to change. We're enticed by the sun's warmth and welcoming presence, but its UV rays can also be harmful.
Most people know that UV rays can cause skin cancer. However, UV rays can also cause smaller scale damage that many are unaware of. John Hopkins Medicine weighs the pros and cons: "Everybody needs some sun exposure to produce vitamin D (which helps calcium absorption for stronger and healthier bones). But unprotected exposure to the sun's ultraviolet (UV) rays can cause damage to the skin, eyes, and immune system."
Let's have a closer look at the adverse effects that UV rays can have, specifically on the skin's appearance.
Premature wrinkles (photoaging). When UV light comes into contact with bare skin, it causes changes to the skin's DNA. Wrinkling is often the first sign of photoaging and can start to show in early adulthood.
Since it occurs gradually, often showing up years after a person's sun exposure, premature aging is often regarded as an unavoidable, normal part of growing older. However, up to 90% is caused by the sun, making it highly avoidable.

Skin discolouration. Skin discolouration is a condition that occurs mostly from sun exposure. It creates dark brown patches in certain areas, a collection of pigments called melanin, which are produced by the skin to protect the body from the sun. Though some individuals have freckles all year round, increased freckling in the sun is also a common form of skin discolouration.

Actinic Keratosis. Actinic keratosis is the earliest form of squamous cell carcinoma (SCC), a non-melanoma skin cancer. The major cause of actinic keratosis is chronic exposure to UV radiation. It appears more frequently on sun-exposed parts of the body, such as the face, neck, scalp, hands, shoulders, arms, and back. Lookout for raised, scaly growths 1-3mm in diameter. These can be painful, bloody, and a brownish-red colour, and should be looked at by a skincare physician.
It's not too late to protect your skin
Thankfully, skin damage is gradual. Your skin won't be ruined because you forgoed proper sun protection in your early years. In fact, only about 23% of lifetime exposure occurs by age 18. But now that we know better, it's time to get sun smart. See the chart below for a specific breakdown of accumulated sun exposure by age.
| | |
| --- | --- |
| Ages | Average Accumulated Sun Exposure* |
| 1-18 | 23% |
| 19-40 | 47% |
| 41-59 | 74% |
| 60-78 | 100% |
*Based on a 78-year life span
Get to know your options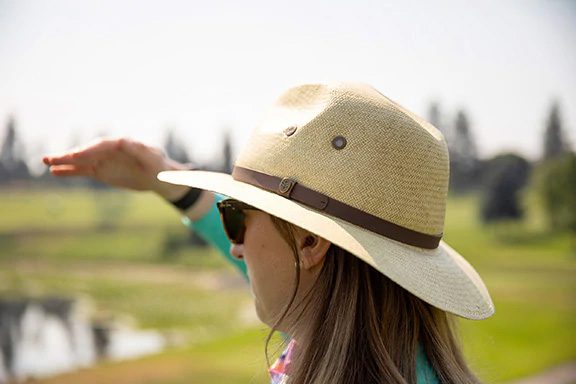 Sunscreen is far from being the only sun protection option available. Though it is a great start.
Facial SPF. People who use sunscreen with an SPF of 15 or higher daily show 24% less skin aging than those who do not use sunscreen daily. Broad-spectrum sunscreens can be found in many lightweight liquid formulas, and we've got some great options available in the clinic for everyday use.

Sunscreens have come a long way from the pasty, white formulas where they started. For people with oilier skin or those that don't like the feel of sunscreen, our SPF 50 Colorescience Brush-on Sunscreen powder is a popular alternative.

Hats and visors. Broad-brim, bucket, or legionnaire hats offer the best protection from UV radiation. Baseball hats and visors are not recommended, as they don't offer adequate coverage on the ears and neck. For more information on what to look for in a sun hat, be sure to check out our blog post on Sun Hats for Every Adventure.
Glasses. Years of chronic sunlight exposure increases a person's risk of cataracts. Sunglasses will protect your eyes from damage. Wearing sunglasses can help prevent skin cancers on the eyelids and the delicate skin surrounding the eyes. They can also reduce the development of crows-feet wrinkles, a common target of anti-aging treatments.

Neck protection. The neck is one of the most common places affected by UV rays, and unfortunately is often overlooked by sun protection products. Choose a hat with a flap to prevent the sun from reaching your neck, such as a legionnaire style. If you already have a sun hat that you love, breathable neck gaiters are a great option for outdoor activities and exercise.
Anti-Aging Questions? Ask the Professionals
At Kelowna Skin Cancer Clinic, we are skincare physicians advocating prevention. It's never too late to invest in sun protection and stop UV rays from damaging your skin. Get in touch today to inquire about our preventative services and treatments.