Who is your favourite person to spend time with and why?
My wife, Lize. We met in our first year of medical school, and her calm demeanour keeps me grounded. But actually, she is just so much fun to be around with.
If you could go anywhere in the world right at this moment where would you go and why?
Wailea, Maui, the perfect temperature with an ocean breeze, and playing with my boys on the beach.
What is your favourite activity in Kelowna?
Wine tasting at our amazing wineries.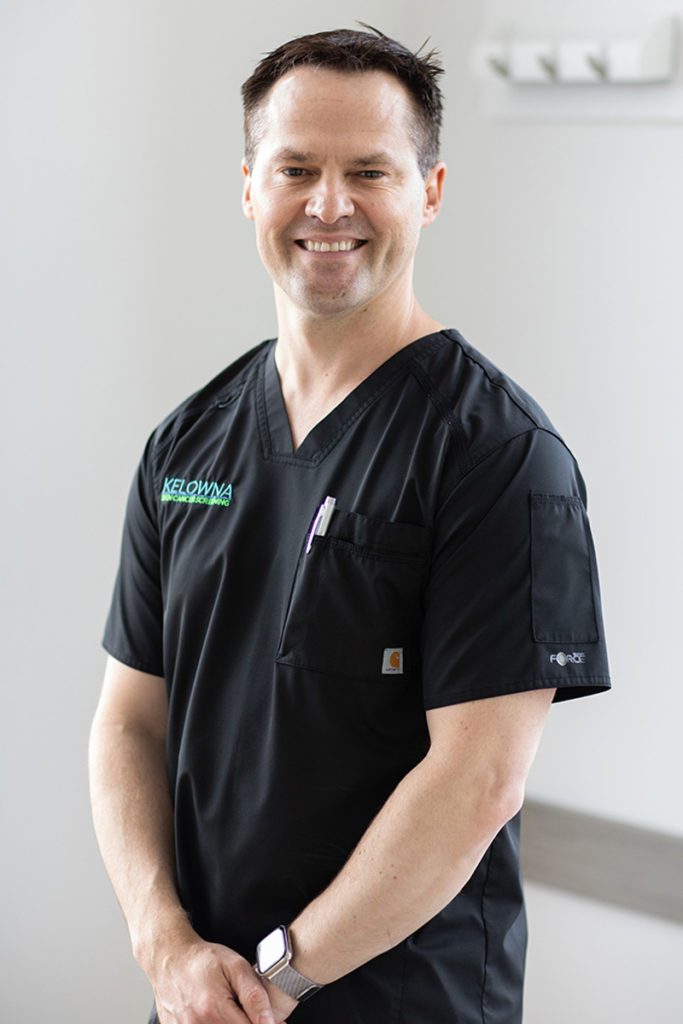 What is the most embarrassing thing that has happened to you?
Oh, my soul, I am a physician, there are so many… I could write a book just about that!
What is the most inspiring thing that has happened to you?
Growing up in South Africa and especially receiving my medical training there was very humbling. Most of the population, struggle with extreme poverty. Once during a crazy busy on call day, I was discharging a patient from the hospital to go home. This specific patient was admitted 16 weeks earlier, due to uncontrollable seizures, secondary to severe meningitis and advanced HIV/AIDS. On her admission 16 weeks earlier, she was started on antiretroviral medications, and miraculously improved, so much so that she could be discharged home., +- 400km away from the hospital. This patient was thanking me for all my help, stating that she never thought she will ever go home and see her 4-year-old daughter again. As a sign of gratitude, she said she wished she had more to give me but was so thankful; she decided to give me an apple. This apple she was actually saving for her 5-year-old. I must admit, this was totally unexpected, and I was starting to get watery eyed. Luckily, I was on call and had two apples in my bag, which I always carry around, when doing a 36-hour shift. I decided to take 10 minutes and pulled a chair closer. I thanked her for the apple but told her that I had something better to offer. I decided to split one of my apples in 2, half for each of us to enjoy and gave her my other apple as a gift to her daughter. She was in tears!
How amazing, that some people can have so little, but always have something to give…makes you think hey?
Tell us about your favourite childhood memory.
Horseback riding on Friday afternoons in between the vineyards…what a memory.
How do you give back to the community?
It is difficult to give back our time to the community, but that does not mean you can't help! We contribute to the YMCA, as well as the Okanagan Mental Health Services Society.
If you could change one thing in the world, what would it be?
To live in a hate-free world full of love and respect for one another.

Where would you sneak away to in Kelowna to spend some time alone?
I would go for a trail run in South East Kelowna.
Where would you like to see positive change in Kelowna and why?
Eradicate homelessness and have affordable housing available.
What do you think makes Kelowna great?
It is large enough to have great facilities and activities, but still not like a typical city.
What are three things on your bucket list?
Going to the Serengeti and see the migration of the Wildebeest

Scuba diving in the Red Sea or Great Barrier Reef

Discovering the Amazon Rainforest and River
Tell us something that not everyone may know about you.
I am a true romantic.
How do people connect with you through social media, like Facebook, Twitter, Linkedin?
LinkedIn
Twitter
Facebook
Crunchbase
What is the goal of your business?
Prevention, but also diagnosing and treating skin cancers as early as possible.
What has been your biggest struggle either at work or in life?
The work-life balance, juggling all the balls of life.
If you could start all over again would you do things the same or would things be different?
I would do it the same, but not take myself so seriously!
What do you always find yourself saying?
Don't try to sprint your marathon.
Tell us your best piece of life advice?
Life is too short not to like it. If you find you are in a situation that you don't like, change it!
If you could spend one whole day with anyone in the world who is currently alive, who would you select?
I am a family man, so that will be my wife and the boys.
Why do you think it is important to shop locally?
If you want Kelowna to be better, your dollar needs to stay here!
What has been your proudest accomplishment?
Opening the Kelowna Skin Cancer Screening clinic, the birth of our twin babies and doing my Masters degree in Skin Cancer, all at the same time!!
Give someone you think that deserves it a shout out and explain why?
Yolanda de Villiers. She is a local artist, but also the co-owner of Cadder House, Outpatient and Family Accommodation, a block away from Kelowna General Hospital. Yolanda's passion for people and her willingness to help makes Cadder House a gem! www.vacationrentalkelowna.com.
Some general comments I would like to share.
About Dr. Ben Wiese
Dr. Ben Wiese is a dedicated primary care skin cancer physician based in Kelowna, Canada, and is the practicing skin cancer physician at the Kelowna Skin Cancer Screening Clinic. As a physician with special interest in skin cancer, Dr. Ben Wiese is a firm believer that "prevention is better than cure." Having worked as a family physician for over a decade, Dr. Wiese's approach is more proactive than reactive. Rather than look a the sporadic skin lesion, he takes the time to look over the body's fastest growing organ, your skin. THis is what ultimately led him to open the Kelowna Skin Cancer Screening Clinic in Kelowna, where he offers skin cancer screenings and treatments.
Dr. Ben Wiese's aim is to become a true professional in the field of skin cancer and dermoscopy. Ultimately, Dr. Wiese hopes to contribute to skin cancer awareness through research, teaching and being a strong advocate for prevention. In order to continue his education, Dr. Ben Wiese is currently attaining his Master's Degree in Skin Cancer from The University of Queensland in Australia.
Dr. Ben Wiese works in numerous capacities in the surrounding areas. From time to time, both Dr. Ben Wiese and his wife, Dr. Lize Wiese, do some surgical assisting at Kelowna General Hospital. They've also been fortunate enough to do some teachings through the UBC Medical student program. An advocate for not only his patients' health but physician's health as well. Dr. Ben Wiese has been a guest speaker for Telus – MedAccess on several occasions, as well as some private organizations.

Aside from their careers, both Dr. Ben and Lize Wiese love being outdoors, hiking, biking, water skiing, and snow skiing. Together they enjoying traveling and simply spending times with good friends. In April, Dr. Ben and Lize Wiese welcomed twin boys to their family.